I love changing things around in my house. Always have. Even as a kid, I loved to decorate. I still remember most of my bedrooms (and there were a lot).
Remember when this house was amazing.
My 80s bedroom had a matching country blue comforter set complete with a ruffled pillowcase and ruffled curtains that framed our white vinyl mini blinds. I even remember buying it. My sister got the pink one, and I wanted the blue. They had other colors, but I liked the blue. My mom even questioned it, "Are you sure you want blue?" The wallpaper was a subtle stripe adorned with peach and country blue roses. I loved my room. It was inspiring... so much that I colored on everything (wallpaper included).
Similar to my country blue curtain.
Later I wanted something more grown up, which meant bright, matching New Kids On The Block (or NKOTB to their biggest fans) sheets, comforter and curtains.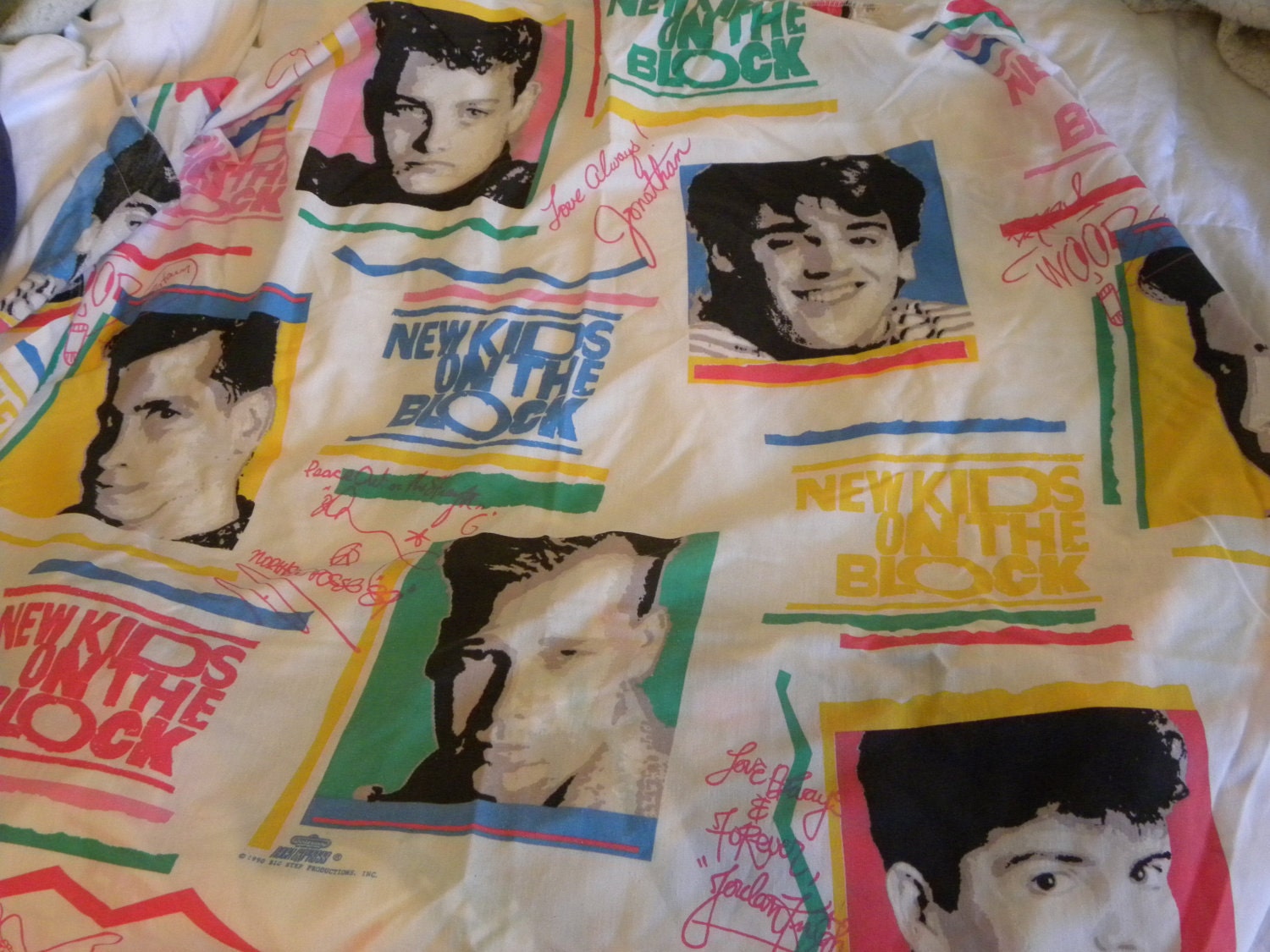 This is actually it! I remember tracing their signatures and staring into those black and white faces!
I shared a room with my sister while we lived at my mamaw's house. It had a matching white eyelet comforter set with small satin ribbon bows in the trim -- so fancy! The room had white wicker furniture that actually matched and mirrored closet doors.
In the 90s I still liked the country, antique style. I had another comforter set with mauve roses and vines. I remember lots of baskets and pictures of flowers and cute baby animals...
Later, I decided to paint my room sage.
It was really more of a mint though, and after a year of it, the color completely grossed me out. To this day, if any color hints at that awful sage mint I have to change it. Right then.
Finally, I painted my room a soft cream. It was pretty. I opted not to do curtains over my mini blinds. Instead, I accentuated the half-window with a scarf and old-world sconces. I loved the old world look... way too much.
In college it was zebra print pillows and a khaki duvet cover with purple sheets (Go LSU!). Great choices until I saw the peachy-beige color of my dorm room walls. It clashed in the worst way.
It's funny to think about all of those rooms. I spent so many hours there!
It gets me thinking... what will I think of when I look back on my current style?
So much of what I do is limited by my budget, but I also limit myself by playing it safe. When I chose that blue comforter set, I didn't doubt it. I knew what I wanted. I liked blue. Gosh I wish I could be that decisive now. I wish I didn't care so much what was in style, expected or in everyone else's homes.
And come to think of it, I want to live my life more like that too. I want to go for the unexpected. Not worry about others' opinions. Just go with what I love.
How about you? Do you remember all of your childhood bedrooms? Do you wish you could decorate and live life with more conviction?
I have a board on Pinterest called "Design with Guts." I hope one day, some of my rooms will look more like them. My life too.